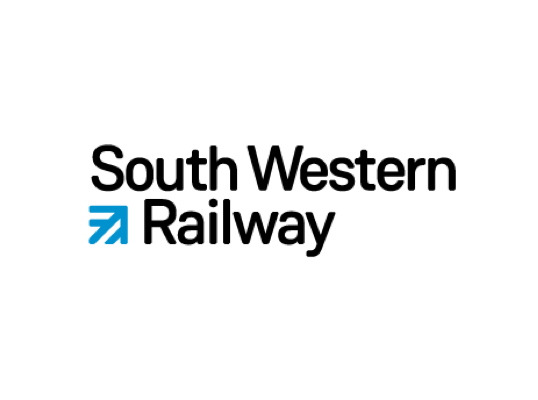 South Western Railway & TrainPal
If you're after South Western Railway train tickets, look no further. At TrainPal, we'll show you where South Western Railway can take you and how to book the best value fares for your journey. To find South Western Railway tickets, simply start a search above, and we'll show you the best available journey times and prices. Keep reading for more information on classes, onboard amenities, destinations, and cheap train ticket tips.
About South Western Railway
On 20th August 2017 South West Trains commenced operations in the South of England. The new franchise, officially known as South West Trains, promises a range of new benefits for its passengers. It plans to invest £1.2bn ($1.5bn) between 2017 and 2024 to introduce brand-new and refurbished trains, including 52,000 more seats during peak commuter hours. You can also expect faster WiFi, better onboard bathrooms and charging points. Stagecoach Southwestern Trains is registered in England and Wales and started Southwest Trains rail service in 1996. The Twickenham-London Waterloo line was the first officially privatized regular train line in 48 years. The South Western Railway network includes lines through Hampshire, Surrey, Dorset, Wiltshire, Berkshire, Devon, Somerset and Greater London. These routes are used by commuters and long-distance passengers. The company's six main routes are the South West Mainline, Portsmouth Direct, West of England Mainline, Wessex Mainline, London Waterloo to Portsmouth Harbor Line and London Waterloo to Reading Line. Suburban routes are also available.
South Western Railway Route Map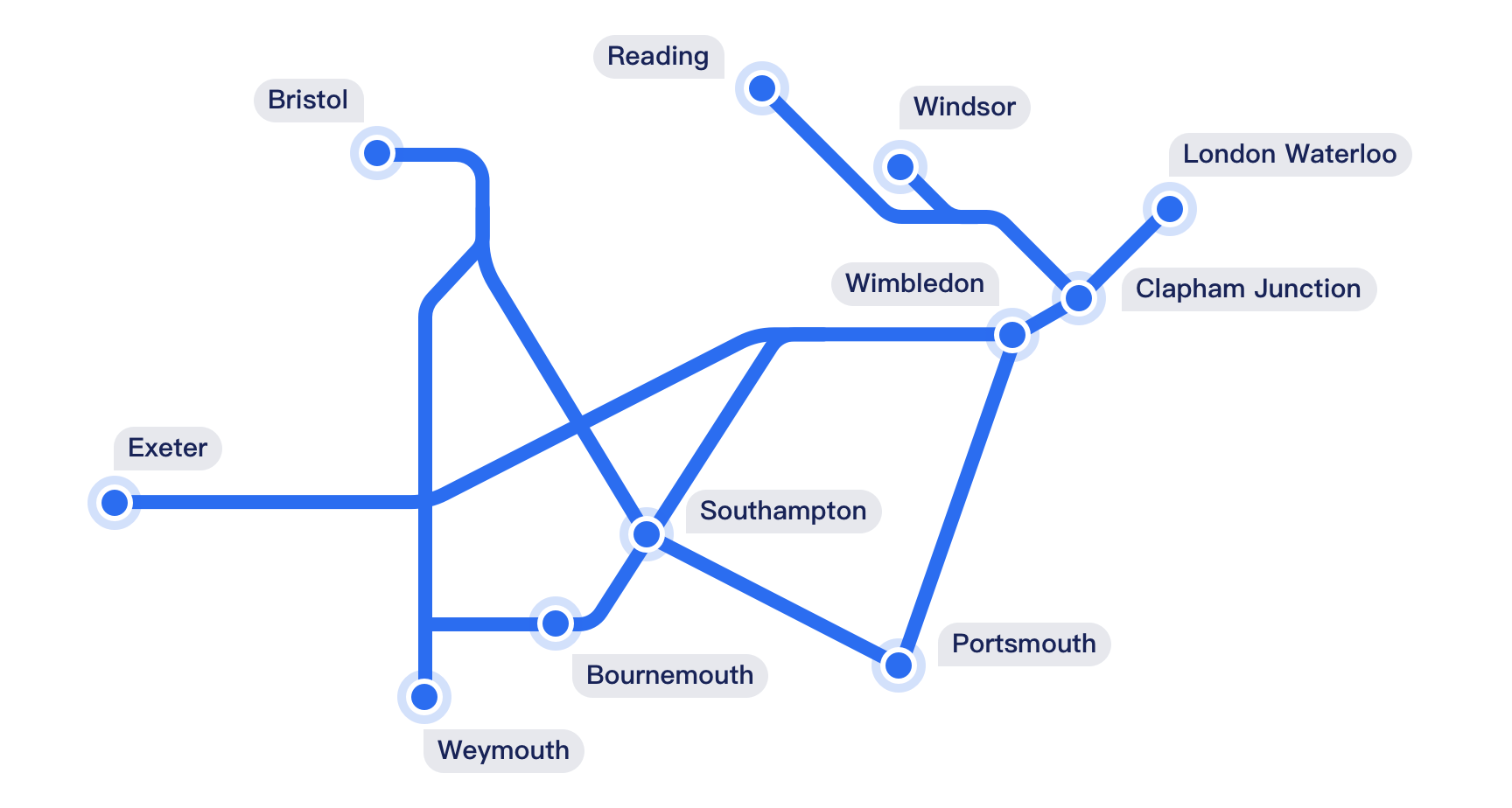 Unsure about where to start your South Western Railway adventure? Use our map to plan out where you want to go. From London, you can enjoy high-speed services to destinations like Liverpool, Edinburgh and Manchester. South Western Railway are one of the primary rail operators in the UK, providing services from London Euston and a number of major terminals including Birmingham New Street, Manchester Piccadilly and Liverpool Lime Street. Many of the routes feature high-speed services with no changes required, making South Western Railway an excellent alternative to air travel if you're looking to traverse up or down the length of the country.
What can South Western Railway offers
Southwest Railroad prides itself on providing its passengers with a fair and unique experience.
1. In-station WiFi
Free WiFi is available at the following 5 South West train stations: Aldershot,Basingstoke, Farnborough, Guildford and Woking
2. Quiet zone
Most cars with blue stickers on the doors and windows have quiet zones.
How to Get Cheap South Western Railway tickets
Looking for the cheapest train tickets for your journey? We've got you covered!Check out the suggestions below and discover tips you can use to save on your next train journey.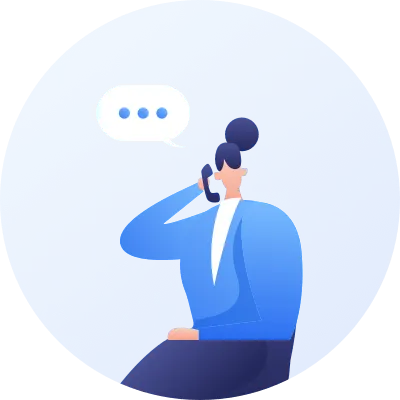 Book in advance
Most of the railway companies throughout Europe release their tickets approximately three to six months in advance, with many offering lower prices for early bookings. If you know the dates you wish to travel, it may be possible to secure cheaper train tickets from Milan to Rome by booking in advance.

Choose a slower or connecting train
On certain busier routes, it may be possible to opt for a slower or connecting train. Although it may take slightly longer than high-speed or direct services, you could potentially secure a cheaper fare if you have some extra time to spare. Additionally, you'll have more opportunity to appreciate the scenic views of the countryside!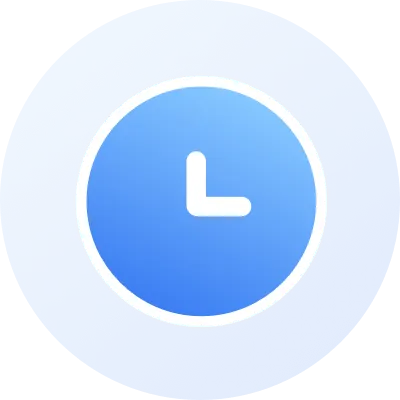 Be open to flexibility in your travel schedule
A significant number of train services in Europe are also utilized as commuter services, and as such, many train companies raise ticket prices during "peak hours" (typically from 06:00 to 10:00 and from 15:00 to 19:00 on weekdays). If possible, try to travel outside of peak hours to secure lower-priced tickets.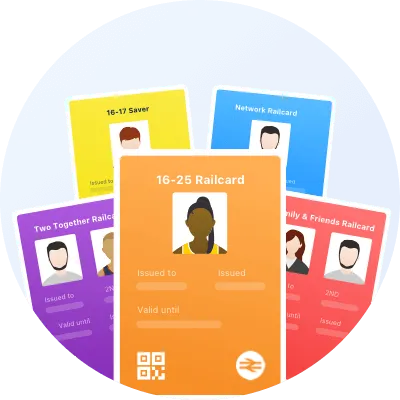 Use your Railcard
National Railcards offer a 1/3 off eligible train tickets in the UK and can be a great investment if you travel a few times or more in a year.

Find some special deals
Take a look at our Apps to find out when train operators release their special deals and offers to see if you can find cheap European train tickets (
https://www.mytrainpal.com
) for your journey.
South Western Railway Train Classes
First Class
More comfortable seats and more places to work on board, such as tables and pull-down tables
Complimentary hot drinks and trolley service biscuits
South Western Railway Main Line
Hot South Western Railway Destinations
Travelling with a Railcard
Travelling with South Western Railway a few times a year? Get a Railcard and you'll save up to 1/3 on eligible journeys. Click on one of the Railcard types below to see the various eligibility requirements.
More info about South Western Railway
Q:
Will there be any major changes to the current South Western Railway?
A:
Even if Southwest Trains were renamed Southwest Railway, the company would still cover the same routes. South West Railway connects the South of England with London Waterloo (the company's main terminal), providing reliable service to thousands of passengers every day. For now, the company maintains numerous routes from London to Bristol, Brighton, Portsmouth-Southsea, Exeter St He Davids and Reading.
Q:
How much luggage can I bring on a South Western Railway?
A:
As most trains on the national network, you can carry up to 2 large suitcases or 1 small carry-on, but during peak hours it can be difficult to bring a lot of luggage on board.