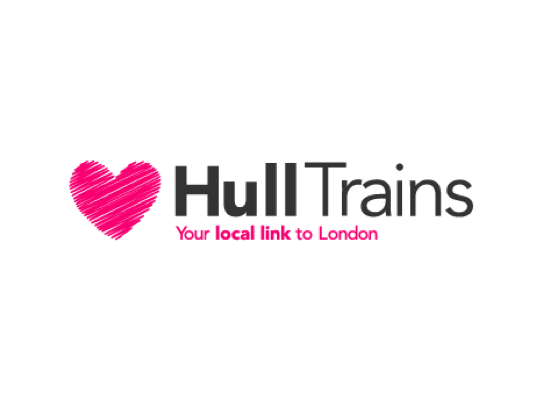 Hull Trains & TrainPal
If you're after Hull Trains train tickets, look no further. At TrainPal, we'll show you where Hull Trains can take you and how to book the best value fares for your journey. To find Hull Trains tickets, simply start a search above, and we'll show you the best available journey times and prices. Keep reading for more information on classes, onboard amenities, destinations, and cheap train ticket tips.
About Hull Trains
Hull Trains is an award-winning open access operator with up to 94 weekly direct flights from the Hull and Humber regions to the capital. In 2019 we welcomed the first Paragon fleet into passenger service. As part of a £60m investment, state-of-the-art Hitachi vehicles have brought significant improvements to travel after replacing older ones. Smoother, greener and with 20% more seats for passengers traveling to and from the metropolitan area. 2021 is the year we celebrate our 21st anniversary. Throughout our 21-year history, it is our people who continue to set us apart. From the on-board team to the driver, everyone plays their role and pays attention to every detail to ensure that every trip is a great experience. We are delighted to be able to officially name the £60m Hitachi vehicle that represents the new future of Hull Trains. Our five carriages were named the Paragon Fleet after its independent meaning and Paragon Station, which has stood as a landmark in Hull's city center since 1848. Paragon is defined by the Oxford English Dictionary as an example of excellence, and that's exactly what our five high-tech trains are. The new Paragon Fleet is a symbol of our pride in Hull Trains, the people of Hull and Hull City, and will continue to represent the best of rail travel for years to come. From December 2019 onwards, customers will benefit from increased seat capacity, enhanced interiors and increased speed as part of a significant £60m investment. Hull Trains will replace its older Class 180 carriages with new high-tech Hitachi carriages, which will run on both diesel and electric. This will allow customers to benefit from electrified tracks on the East Coast Mainline while continuing to enjoy the human experience of the friendly onboard team that Hull Trains prides itself on.Hull Trains is committed to providing the best travel experience, and this includes making a positive contribution to environmental sustainability.
Hull Trains Route Map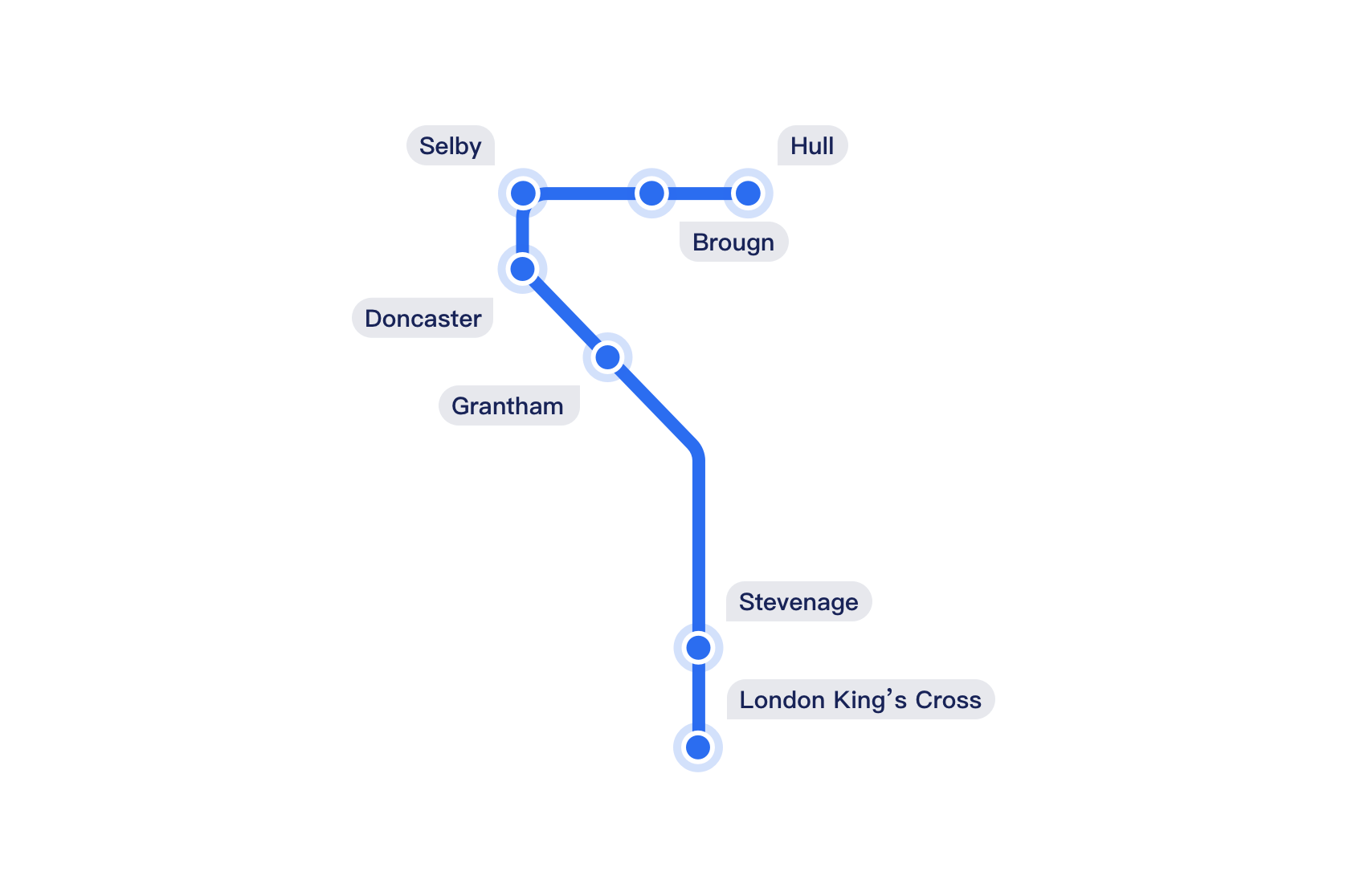 Unsure about where to start your Hull Trains adventure? Use our map to plan out where you want to go. From London, you can enjoy high-speed services to destinations like Liverpool, Edinburgh and Manchester. Hull Trains are one of the primary rail operators in the UK, providing services from London Euston and a number of major terminals including Birmingham New Street, Manchester Piccadilly and Liverpool Lime Street. Many of the routes feature high-speed services with no changes required, making Hull Trains an excellent alternative to air travel if you're looking to traverse up or down the length of the country.
What can Hull Trains offers
1. Up to 94 weekly direct trains connect Beverly/Hull and London King's Cross.
2. State-of-the-art high-tech vehicle Paragon
3. Special service in First Class vehicles
4. Passenger Assist Service
5. Great travel offers including 2FOR1 admission to top London attractions
How to Get Cheap Hull Trains tickets
Looking for the cheapest train tickets for your journey? We've got you covered!Check out the suggestions below and discover tips you can use to save on your next train journey.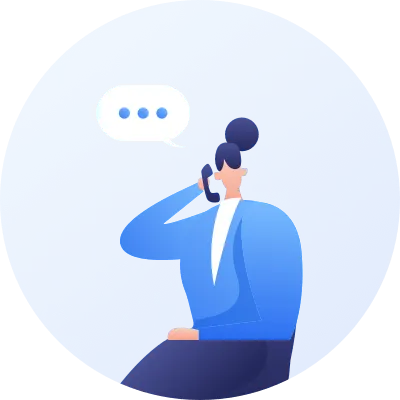 Book in advance
Most of the railway companies throughout Europe release their tickets approximately three to six months in advance, with many offering lower prices for early bookings. If you know the dates you wish to travel, it may be possible to secure cheaper train tickets from Milan to Rome by booking in advance.

Choose a slower or connecting train
On certain busier routes, it may be possible to opt for a slower or connecting train. Although it may take slightly longer than high-speed or direct services, you could potentially secure a cheaper fare if you have some extra time to spare. Additionally, you'll have more opportunity to appreciate the scenic views of the countryside!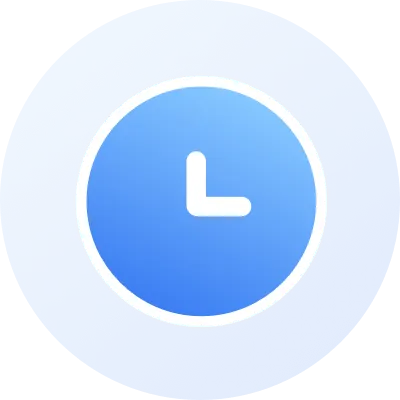 Be open to flexibility in your travel schedule
A significant number of train services in Europe are also utilized as commuter services, and as such, many train companies raise ticket prices during "peak hours" (typically from 06:00 to 10:00 and from 15:00 to 19:00 on weekdays). If possible, try to travel outside of peak hours to secure lower-priced tickets.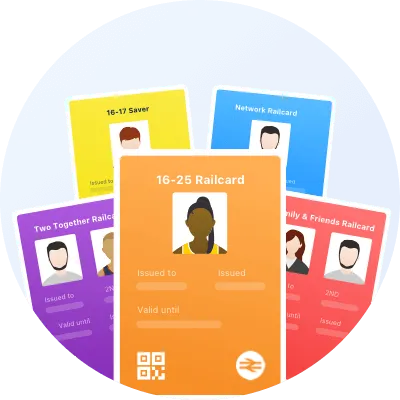 Use your Railcard
National Railcards offer a 1/3 off eligible train tickets in the UK and can be a great investment if you travel a few times or more in a year.

Find some special deals
Take a look at our Apps to find out when train operators release their special deals and offers to see if you can find cheap European train tickets (
https://www.mytrainpal.com
) for your journey.
Hull Trains Train Classes
Standard Class
Wide reclining seats with extra legroom
Free Wi-Fi
Complimentary refreshments throughout your journey
The services of a dedicated on board host to cater for your needs
Hot Hull Trains Destinations
Travelling with a Railcard
Travelling with Hull Trains a few times a year? Get a Railcard and you'll save up to 1/3 on eligible journeys. Click on one of the Railcard types below to see the various eligibility requirements.
More info about Hull Trains
Q:
How much luggage can I bring onboard?
A:
Space may be limited during busy times, so we can only carry up to 3 pieces of luggage: 1 large suitcase, 1 carry-on, and a handbag.
Q:
Are your trains accessible to people with disabilities?
A:
Yes, we welcome all guests. Our new Paragon vehicles offer greater accessibility with designated wheelchair spaces, larger accessible toilets and priority seating. Designated priority seating is close and has full access to accessible facilities and exits. These are listed on the seating chart. Also, if you need to get on and off, you can use the ramp.