Caledonian Sleeper & TrainPal
If you're after Caledonian Sleeper train tickets, look no further. At TrainPal, we'll show you where Caledonian Sleeper can take you and how to book the best value fares for your journey. To find Caledonian Sleeper tickets, simply start a search above, and we'll show you the best available journey times and prices. Keep reading for more information on classes, onboard amenities, destinations, and cheap train ticket tips.
About Caledonian Sleeper
Transport Scotland awarded Serco the contract to manage and operate the new and prestigious Caledonian Sleeper franchise in 2014. The 15-year franchise began on the evening of March 31, 2015, with Serco taking over the management of all aspects. Sleeper services, including marketing, sales, on-board hospitality services, vehicle maintenance and provision of accommodation facilities for Sleeper passengers.Since June 2019, the Caledonian sleeper train has brought a new travel experience to passengers. The sleeper carriages built in the 1980s will be given a facelift, with plaid wall decorations and walls painted in white and orange to make the whole carriage more cosy. Among the train's 484 available rooms, there are also double suites for the first time, making it the world's first sleeper train to offer double suites. In addition to the soft bed, the room is equipped with a separate toilet and shower. In addition, new engineering technology has been introduced into the train to reduce the noise generated by the power system, etc., so that passengers can sleep more comfortably and welcome the next day's journey in a more refreshing state.The Caledonian Sleeper is a London-Scotland night train operated by Scotrail and offers three types of sophisticated sleepers: Caledonian Double, club rooms and classic rooms. It is equipped with all the comforts of a hotel (wireless LAN, private bathroom, private room service, etc.). Also, since last year, entertainment using virtual reality has been provided, further expanding the wonderful sleeper train experience. A new vehicle equipped with a virtual reality system that debuted last October marked a new chapter in nighttime travel between Scotland and London. Whether on business or on holiday, Caledonian Sleepers will take you to some of the most beautiful destinations in the UK. Whether you're heading to London, Edinburgh, Glasgow, Inverness, Aberdeen or Fort William, you'll find a comfortable, friendly and relaxed atmosphere.
Caledonian Sleeper Route Map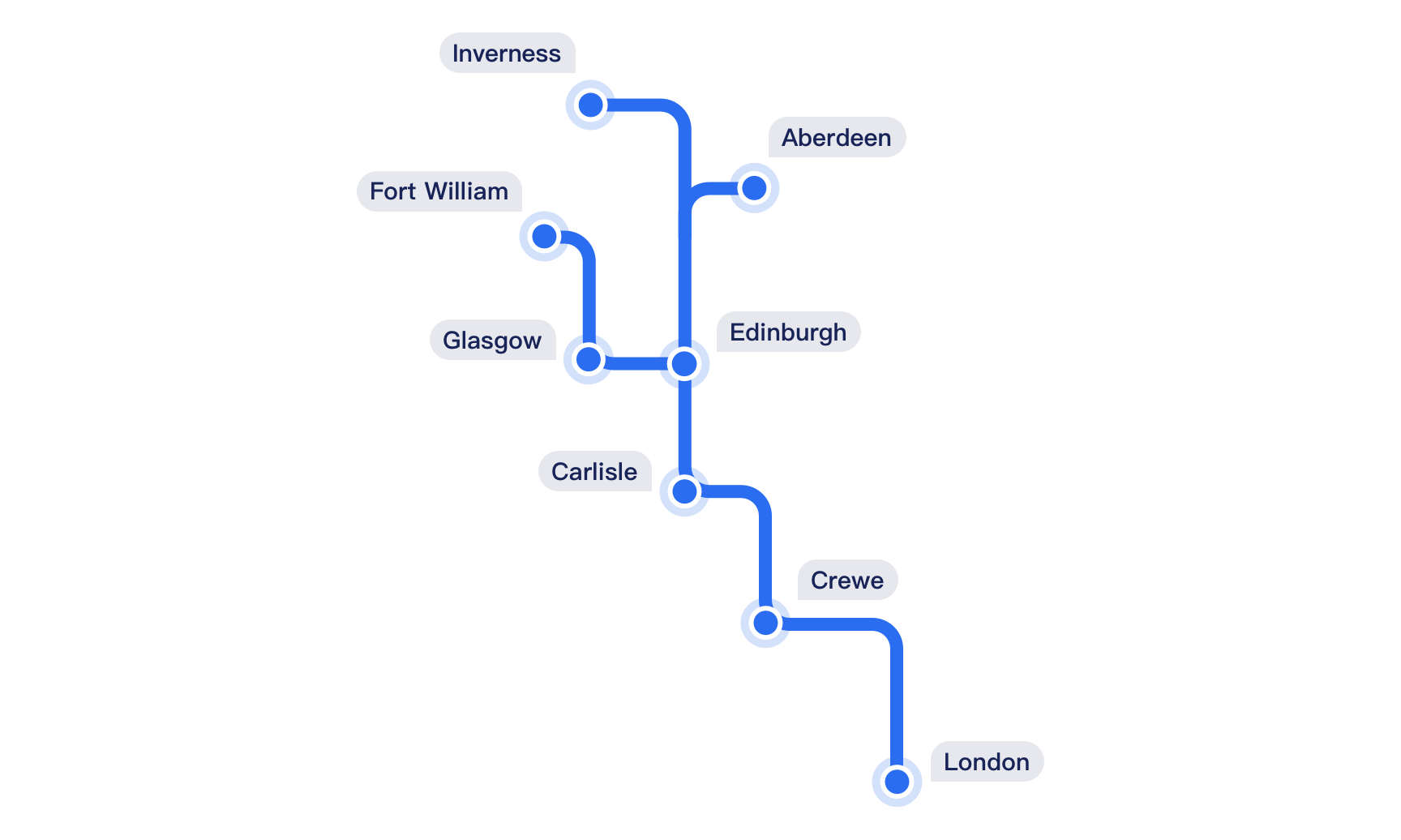 Unsure about where to start your Caledonian Sleeper adventure? Use our map to plan out where you want to go. From London, you can enjoy high-speed services to destinations like Liverpool, Edinburgh and Manchester. Caledonian Sleeper are one of the primary rail operators in the UK, providing services from London Euston and a number of major terminals including Birmingham New Street, Manchester Piccadilly and Liverpool Lime Street. Many of the routes feature high-speed services with no changes required, making Caledonian Sleeper an excellent alternative to air travel if you're looking to traverse up or down the length of the country.
What can Caledonian Sleeper offers
Forget waiting in line for security or long trips from the airport to the city. Caledonian Sleeper will take you exactly where you want to go. Unlike air travel, there are no excess baggage fees, so you can enjoy a hassle-free trip.
1. Free WiFi
2. Charging points
3. Bathroom
4. Club Car, where passengers can enjoy the very best of Scotland's food and drink
5. Family products to passengers travelling with kids
6. New environmentally friendly trains
7. Welcome to bring pets
How to Get Cheap Caledonian Sleeper tickets
Looking for the cheapest train tickets for your journey? We've got you covered!Check out the suggestions below and discover tips you can use to save on your next train journey.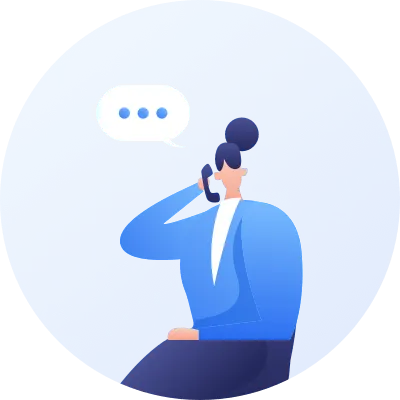 Book in advance
Most of the railway companies throughout Europe release their tickets approximately three to six months in advance, with many offering lower prices for early bookings. If you know the dates you wish to travel, it may be possible to secure cheaper train tickets from Milan to Rome by booking in advance.

Choose a slower or connecting train
On certain busier routes, it may be possible to opt for a slower or connecting train. Although it may take slightly longer than high-speed or direct services, you could potentially secure a cheaper fare if you have some extra time to spare. Additionally, you'll have more opportunity to appreciate the scenic views of the countryside!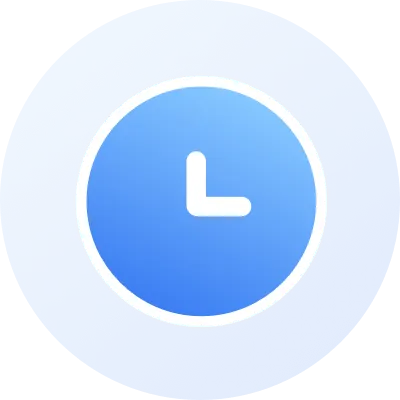 Be open to flexibility in your travel schedule
A significant number of train services in Europe are also utilized as commuter services, and as such, many train companies raise ticket prices during "peak hours" (typically from 06:00 to 10:00 and from 15:00 to 19:00 on weekdays). If possible, try to travel outside of peak hours to secure lower-priced tickets.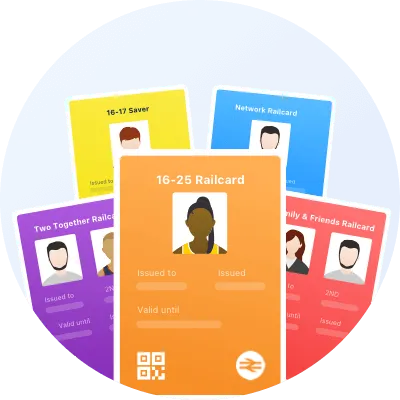 Use your Railcard
National Railcards offer a 1/3 off eligible train tickets in the UK and can be a great investment if you travel a few times or more in a year.

Find some special deals
Take a look at our Apps to find out when train operators release their special deals and offers to see if you can find cheap European train tickets (
https://www.mytrainpal.com
) for your journey.
Caledonian Sleeper Train Classes
Caledonian Double
Double bed with Glencraft mattress
Breakfast
En-suite with toilet and shower
In-room washbasin
Complimentary Arran Sense of Scotland toiletries
Station Lounge access
Priority Club Car access
Priority boarding
Wi-Fi
Charging points
Room Service
Keycard entry
Temperature control
Dimmable lights
Club Room
Breakfast
En-suite with toilet and shower
In-room washbasin
Complimentary Arran Sense of Scotland toiletries
Station Lounge access
Priority boarding
Wi-Fi
Charging points
Room Service
Keycard entry
Temperature control
Dimmable lights
Classic Room
Twin bunk beds with Glencraft mattresses
Breakfast available for purchase
In-room washbasin
Wi-Fi
Charging points
Room Service
Keycard entry
Temperature control
Dimmable lights
Hot Caledonian Sleeper Destinations
Travelling with a Railcard
Travelling with Caledonian Sleeper a few times a year? Get a Railcard and you'll save up to 1/3 on eligible journeys. Click on one of the Railcard types below to see the various eligibility requirements.
More info about Caledonian Sleeper
Q:
1. Can I take a bicycle on Caledonian Sleeper?
A:
You can enjoy your travel with your bike without worries, and there is no need to cost for this extra service. It's FREE!!
Q:
2. Where to Buy Caledonian Sleeper ticket?
A:
Buy your Caledonian Sleeper rail ticket online via official website.From our Guest Service Centre call 0330 060 0500Any station ticket office
Q:
3. Can I bring a pet on board?
A:
Pets are welcome on board, so your whole family can travel together.